Sonny's BBQ in Zephyrhills is very Biker-friendly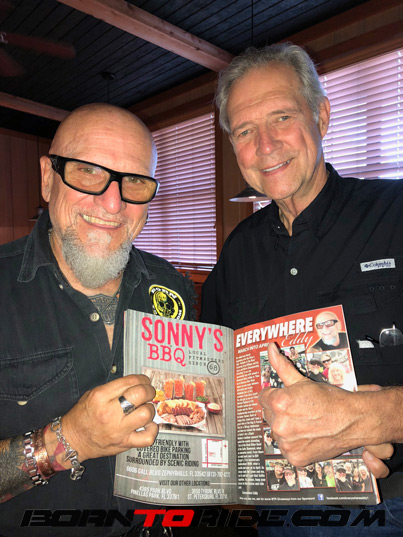 Sonny's BBQ Zephyrhills
I've always enjoyed Sonny's for their fair prices and consistently great food. They are also known for having a terrific salad bar, (something many other places have discontinued).
Inside, we saw a very inviting bar area, with seating at the bar and tables. We chose to sit in the restaurant, where a server took our order within moments and answered our questions and requests with a smile. Eddy ordered Sonny's Sampler and I was anxious to check out the bottomless salad bar. From ordering until I returned from the salad bar, (well under ten minutes) – Eddy had his Sampler in front of him!
The sampler meats were ample and savory and included sliced pork, beef brisket, a quarter of a BBQ chicken and two moist and yummy ribs. Two side dishes with it were also more than generous. The salad bar was clean, well put together and replenished frequently. It had an abundance of fresh vegetables and dressings including a pleasing assortment of side salads, and little cakes and puddings. We were offered a choice of bread, and empty plates were removed within a reasonable time.
The restaurant, the parking, entry, and restrooms appeared well cared for.
From start to finish, our trip to Sonny's BBQ in Zephyrhills was a very enjoyable experience. We are looking forward to returning.